Last year, PUMA Golf brought us the ProAdapt Delta and ProAdapt Spectra and both lines quickly became favorites at the THP Forum for their exceptional style and extreme comfort. Today we have a new drop with the PUMA ProAdapt AlphaCat and they are billed as the "Alpha" of all spikeless golf shoes.
Diving into what makes the PUMA ProAdapt AlphaCat unique starts with its exclusive ADAPT foam. A combination of EVA padding and an impact-resistant polymer not only provides extreme comfort, but also impact resistance. The outsole features a multi-material design that uses an abrasion-resistant TPU for stability and the crystal rubber midsole provides traction and a soft feel underfoot on hard surfaces. What does it mean in simple terms if you get stability and grip on the turf, while having a softer feel on your feet. Something that in the past has been a bit elusive.
Is it waterproof? The upper is an EXO shell made of a mesh with a TPU film. This is designed to provide structural support to the shoe, as well as being waterproof. PUMA Golf offers a one-year warranty on it.
"The new PROADAPT ALPHACAT delivers the energy and innovation that we are here at PUMA," said Andrew Lawson, PLM, Footwear, PUMA Golf. "More golfers than ever are wearing spikeless shoes, so when creating this shoe, our engineers and designers used both performance innovations and styling trends to create the most advanced spikeless golf shoe ever. and the most stylish PUMA has made to date.Ultimately, the PROADAPT ALPHACAT gives golfers a shoe they can perform in, feel confident in and look great in.
What's available
For men, the PUMA ProAdapt AlphaCat is available in sizes 7-14 in four different color options. Women have sizes 5.5 to 12 available and three colors to choose from. Two versions are also available for men, one with your standard laces and one with their PUMA Golf DISC system (which works extremely well). The cost is $150. On the women's side, it's just standard laces and the cost is $120.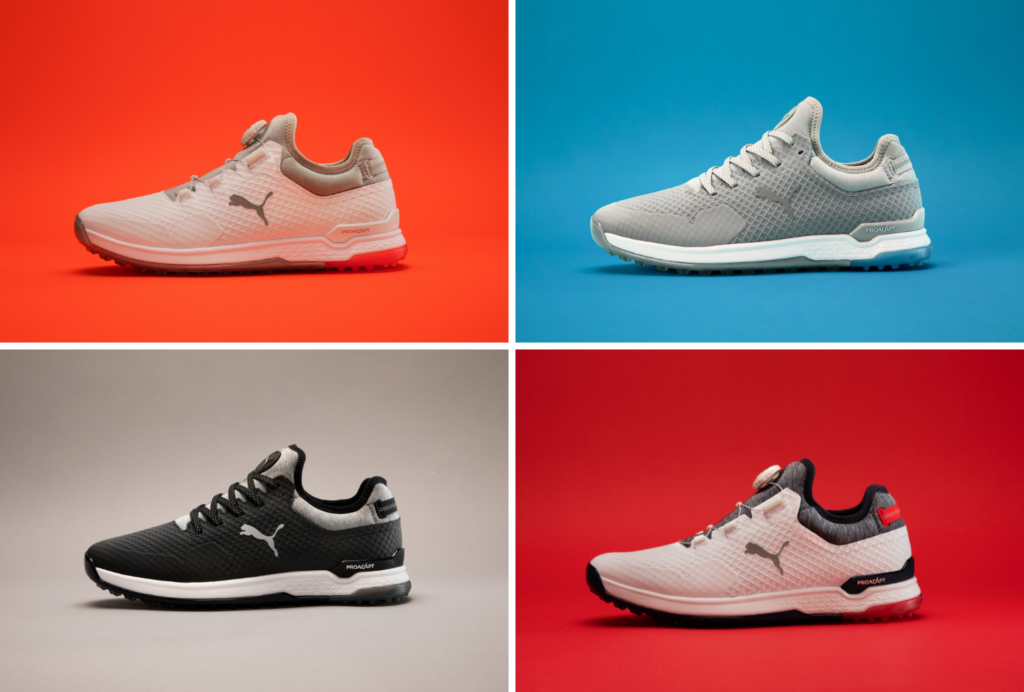 For more information on the PUMA ProAdapt AlphaCat, check out their website at www.pumagolf.com. They are available from today both there and at retailers such as www.budgetgolf.com.
Which color option do you think is best?